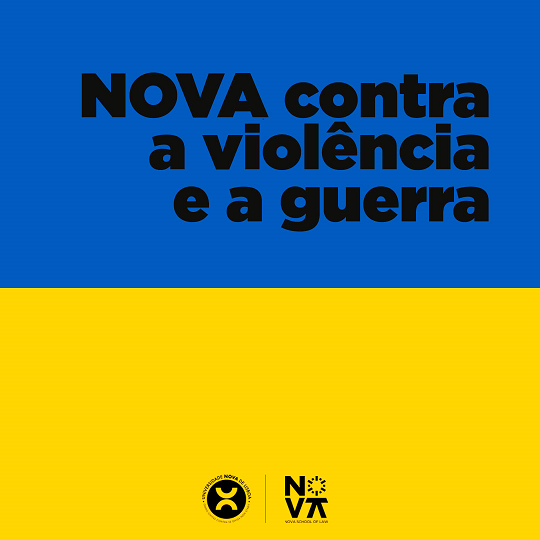 A NOVA apoia a Ucrânia, tal como a NOVA Refugee Clinic
NOVA stands for Ukraine, and so does the NOVA Refugee Clinic
[PT] Nesta página encontrará alguns links úteis para os/as que fogem do conflito russo-ucraniano e que desejam buscar proteção em Portugal:
[EN] Here are a few links useful for those fleeing the Russo-Ukrainian war and who would like to seek protection in Portugal:
Migrant Helpline and Telephone Translation Service (in Ukrainian): www.acm.gov.pt/-/sos-ucrania
Portuguese government platform "Portugal for Ukraine": https://portugalforukraine.gov.pt/en/
Information on Temporary Protection in Portugal: https://sefforukraine.sef.pt/
Free legal support to Ukrainian citizens and their families by the Lisbon Regional Council of the Portuguese Lawyer's Bar Association (messages can be sent in Portuguese or/and Ukrainian): apoio.ucrania@crlisboa.org
---
[PT] A respeito da guerra Russo-Ucraniana, a Universidade NOVA de Lisboa emitiu a seguinte declaração e apoio aos estudantes: «No momento em que forças armadas russas estão a ser mobilizadas para a prática de atos de agressão na Ucrânia, a Universidade NOVA deseja expressar a sua condenação à violência e à guerra. Defendemos as regras e princípios estabelecidos na Carta da Organização das Nações Unidas (ONU), que proíbem o uso da força e privilegiam a resolução pacífica de disputas entre Estados. Estamos solidários com as pessoas afetadas pela guerra Russo-Ucraniana, cujas vidas e direitos humanos estão em jogo. Os nossos pensamentos vão também para os nossos colegas e estudantes ucranianos e russos».
[EN] About the Russo-Ukrainian war, NOVA University Lisbon has issued the following statement and support to students: «As Russian armed forces are being deployed to carry out acts of aggression in Ukraine, NOVA University wishes to express its condemnation of violence and war. We are committed to the rules and principles set out in the UN Charter, which prohibit the use of force and privilege peaceful settlement of disputes between States. We stand in solidarity with the people affected by the Russo-Ukrainian war, whose lives and human rights are at stake. Our thoughts also go to our Ukrainian and Russian colleagues and students».